PROJECTS WRITING
WAGES FOR ART(WORK)
Wages for Art(work) is a participatory art project in which people are compensated for their creative time.

Wages for Art(work) website
🔗
Ongoing virtual project

June 2023 – present
---
VENDING FUTURES
A series of free, interactive installations within publicly accessible vending machines.

Vending Futures website
🔗
Installation at 205 Hudson Gallery

May 2022

---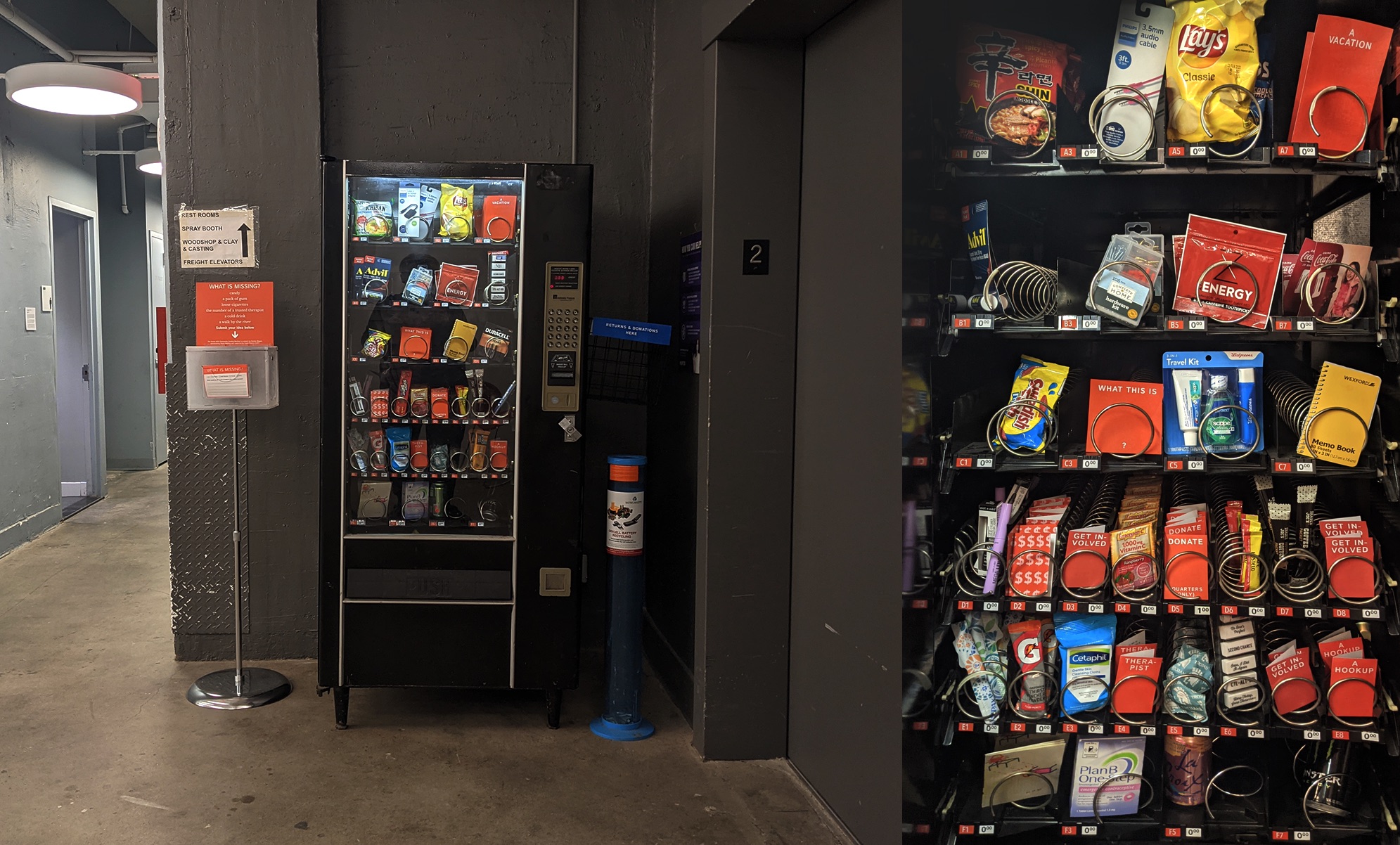 THE HUNTER MFA COMMUNITY VENDING MACHINE
The Hunter MFA Community Vending Machine is a socially engaged art project in which the artist fills a working vending machine with free items, ranging from the mundane to the resourceful to the poetic. The items are suggested by the community of students, faculty, and staff through an anonymous suggestion box. This project is sponsored by Social Practice CUNY and funded with a grant from the Mellon Foundation.

View more...
Installation at Hunter College MFA Campus, New York

November 2021 – present


---
SOLIDARITY KARAOKE

On the one-year anniversary of the 20,000 person walkout from Google offices around the world, I stood outside the NYC office and performed karaoke requests from former coworkers working inside the building.

View more...
Performance in front of Google HQ, 111 8th Ave, NY

November 1st, 2019; reprised December 12th, 2019




---
SKILLSHARE (DESIGN 101)

skillshare (Design 101) is a performance that came out of an exchange of design lessons for dance lessons.


View more...
Performance at Hunter College

May 17th, 2019

---

CEO PERFORMANCE

CEO Performance is an interrogation of the pervasive mythos of tech leaders. Industry celebrities like Elon Musk, Jeff Bezos, Sheryl Sandburg and the late Steve Jobs all maintain highly structured schedules, and their professed daily habits are often touted by the media as key to their success and acquired wealth. For CEO Performance, I constructed a rigorous daily schedule sourced from research into those of tech executives. Every hour is accounted for and for a week in February 2019 I followed it to the minute.

Performance

February 24th – March 2nd, 2019


---
WITHHOLDING LABOR, CLOSING DOORS

Ongoing performance in which I interview for jobs that I did not want in order to turn specific companies down (so far: Google, Amazon, Facebook, Palantir, Morgan Stanley, and others). Pictured: Open Cover Letters, 2019.

Durational performance

2019 - Present


---
UNTITLED (LAYOFF)

Weekly performance captured on public CCTV where I carry around a "laid off" box with personal effects in office drag around Times Square.
View more...
Performance in Times Square

January – April 2019

---
WALL STREET MEMORY

An 8-minute looped reflection on the loneliness experienced by the deserted downtown buildings of Manhattan set to a mall piano rendition of the theme from Cats.
View More...
Video

2018


---
I'M COMING OUT

A short metaphorical retelling of coming out as queer to my long-term heterosexual partner. Ironic and anticlimactic, the video is from the perspective of a performer that never quite makes it to the chorus.



View More...
Video

2017